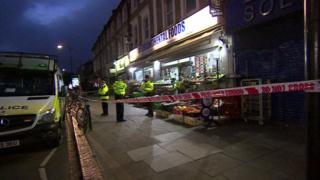 A teenager has been stabbed to death in west London.
The victim, believed to be 18, was attacked in Uxbridge Road, Shepherd's Bush, on Wednesday.
Met Police officers were called at about 21:20 BST, along with paramedics and the London Air Ambulance, but the man died at the scene.
A witness told BBC London the man was stabbed in an alleyway before being chased into a shop where he was stabbed again.
The witness, who did not want to be named, said after the assailant stabbed the teenager for a second time he ran from the shop, leaving the knife in the store.
Another man suffered non-life-threatening injuries in a stabbing in nearby Notting Hill earlier on Wednesday evening.
The man was stabbed just after 19:00 on St Ann's Road and police were "neither linking nor ruling out" a connection between both attacks.
No arrests have been made.
Another local man told the BBC: "I just told my kids to stay indoors. If you don't have to go in the road, don't have no argument with no-one because you don't know. It could be any one of us."
Det Insp Luke Wyllie said: "A young man's life has been tragically cut short.
"Our thoughts are with his friends and family at this very difficult time. We are doing everything we can to apprehend those involved.
"Extra police and specialist units are working on the ground now to build a clearer picture of what took place and work to protect and reassure those in the local community."
A Section 60 order – which gives police the power to stop and search people in a designated area – has been put in place in Shepherd's Bush and Notting Hill until Thursday afternoon.
Police are in the process of informing the teenager's next of kin and a post-mortem examination will be held in due course.