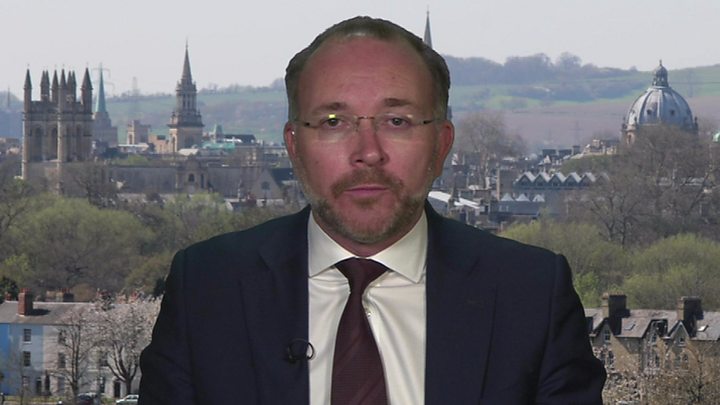 National Grid has said it will "learn the lessons" after nearly one million people across England and Wales lost power on Friday.
But director of operations Duncan Burt told the BBC that its systems "worked well" after the "incredibly rare event" of two power stations disconnecting.
He said he did not believe that a cyber-attack or unpredictable wind power generation were to blame.
Regulator Ofgem has demanded an "urgent detailed report" into what went wrong.
It said it could take enforcement action, including a fine, after train passengers were stranded, traffic lights failed to work and thousands of homes were plunged into darkness during the blackout.
Some train services continued to be disrupted on Saturday morning.
The power outage happened at about 17:00 BST on Friday, National Grid said, with blackouts across the Midlands, the South East, South West, North West and north east of England, and Wales.
National Grid said its systems were not to blame and the outage was caused by the loss of two generators.
Industry experts said that a gas-fired power station at Little Barford, Bedfordshire, failed at 16:58, followed, two minutes later, by the Hornsea offshore wind farm disconnecting from the grid.
Speaking to BBC Radio 4's Today programme, Mr Burt acknowledged the "immense disruption" the blackout had caused.
He said the near-simultaneous loss of two generators was more than the grid was routinely prepared for, prompting automatic safety systems to shut off power to some places.
"We think that worked well; we think the safety protection systems across the industry, on generators and on the network, worked well to secure and keep the grid safe, to make sure that we preserved power to the vast proportion of the country," he said.
But he said the industry needed to examine whether these safety systems were set up correctly to have "minimal impact" on people's daily lives.
Mr Burt said the shutdown had "nothing to do with changes in wind speed or the variability of wind" and they were confident there was no "malicious intent" or cyber-attack.
National Grid power was restored by 17:40 BST.
RWE, owner of the Little Barford power station, said it shut down temporarily as a routine response to a technical issue, and called for National Grid and Ofgem to investigate the "wider system issues".
And Orsted, the owner of the Hornsea offshore wind farm, said automatic systems on Hornsea One "significantly reduced" power around the same time others failed.
A spokesperson added: "We are investigating the cause, working closely with National Grid System Operator, which balances the UK's electricity system."
David Hunter, energy analyst at Schneider Electric, told the BBC that although the grid is "pretty safe and pretty reliable", this was a "wake-up call" to the energy industry and businesses with critical infrastructure.
He said the transition to clean energy may be creating "greater stresses" on the system because energy such as wind power is less effective as a "shock absorber" to shifts in supply and demand.
Shadow business and energy secretary Rebecca Long-Bailey said the impact of the power outage was "unacceptable" at a time when National Grid reported £1.8 billion in profits and increased dividends to shareholders.
Throughout the Friday evening rush hour there was huge disruption on the railways: police officers were called in to help travellers and delayed passengers were stranded for hours.
Northern Powergrid said the problems had affected Newcastle airport and city's metro system.
King's Cross was one of the worst-hit stations, with all trains suspended for several hours.
The first train out of the station was at 21:30 to Peterborough, and the first long distance service was packed as it left for Newcastle at 22:46.
Passenger Dayna McAlpine told BBC Radio 5 Live her train took nearly 13 hours to reach London King's Cross from Edinburgh – a journey which would normally take less than five hours.
"By hour seven things were starting to get pretty tense," she said. "People were threatening to self-evacuate off the train… Food ran out about five hours ago."
Others on social media reported having travelled for 12 hours, while some rail passengers were stuck on trains until the early hours of the morning.
Some train companies warned the disruption will continue into Saturday morning.
London North Eastern Railway, which runs between King's Cross and the north of England and Scotland, has cancelled some services.
Thameslink and Great Northern said a number of trains did not end up in their correct location on Friday because of the disruption and problems will continue until 12:00 BST on Saturday.
At the worst point of the power cut, around 500,000 people were affected in Western Power Distribution's area – including 44,500 customers in Wales – while 110,000 Northern Powergrid customers also lost power
In London and the South East, 300,000 people were affected, UK Power Networks said, and another 26,000 customers were without power in the North West.
BBC Radio 5 Live listener Ed, in Woodford Green, north-east London, said he felt "totally cut off" during the power outage, as mobile phone networks were also down.
"You heard all the alarms going off all around. Everything else was pretty eerie and quiet," he said. "There was no way we could know anything – it could be any reason that the power had gone down."
On Friday, Harriet Jackson, described an "apocalyptic" scene on Northcote Road, in Battersea, when traffic lights cut out and cars were not stopping.
And Scott McKenzie, 31, from Cardiff, said "various alarms were going off" during the 15-minute power outage at Newcastle Airport.
"We were literally plunged into darkness and people were using their phones as torches to see and get around," he added.
At Ipswich Hospital, a back-up generator which was supposed to supply power to outpatient areas did not work after the power cut, causing problems for 15 minutes before power was restored.
Lord Adonis, the Labour peer and former chairman of the National Infrastructure Commission, told the BBC the two generator failures meant a loss of about five per cent of the grid's power over 90 minutes.
"Why that led to the heart of the national transport infrastructure being closed down is a big question that the grid has to answer," he said.
---
How did the power cuts affect you? Email your stories to haveyoursay@bbc.co.uk
Please include a contact number if you are willing to speak to a BBC journalist. You can also contact us in the following ways: